Glug Brighton are really excited to announce our Christmas get together in association with Look at This to be held at The Phoenix Gallery.
Fri, 6 December 2019 – 18:30 – 22:00 – admission fee – book here
About this Event
Look At This – The Phoenix Festival Of Print – is a month long celebration of all things print, running from the 15th Nov – 16th of Dec. Including craft fairs, talks, family workshops and an exhibition of works including Patrick Thomas, Anthony Burrill, Stanley Donwood, Sophie Smallhorn, Thomas Mayo, The Private Press and many more. The Glug crew are going to join them for one night only bringing the party!
Follow @lookatthisbrighton on Instagram for more details.
__________________________
Speakers on the night
Anthony Burrill
Instagram: @anthonyburrill
Graphic artist Anthony Burrill combines a knack for simplicity that packs a punch with analogue craft skills and powerful, positive messages. Burrill frequently collaborates with other forward-thinking creatives across disciples spanning music, architecture, curation, education and more; pushing his traditional discipline of choice, letterpress printing, into bold new territories.
Whether working on an art school pavilion, an acid house record, a book or a poster design, Burrill's work is instantly recognisable. While his pieces all bear the marks of his letterpress process and all its joyful idiosyncrasies, Burrill's direct and multidisciplinary approach is one that's constantly evolving, combining tradition with bold new approaches and technologies.
Words, gentle humour, no-nonsense communication and people are at the heart of Burrill's practice and his distinctive brand of upbeat messaging: its core DNA is one created through a longstanding passion for creativity, the power of simplicity and an innate curiosity about the world and people in it.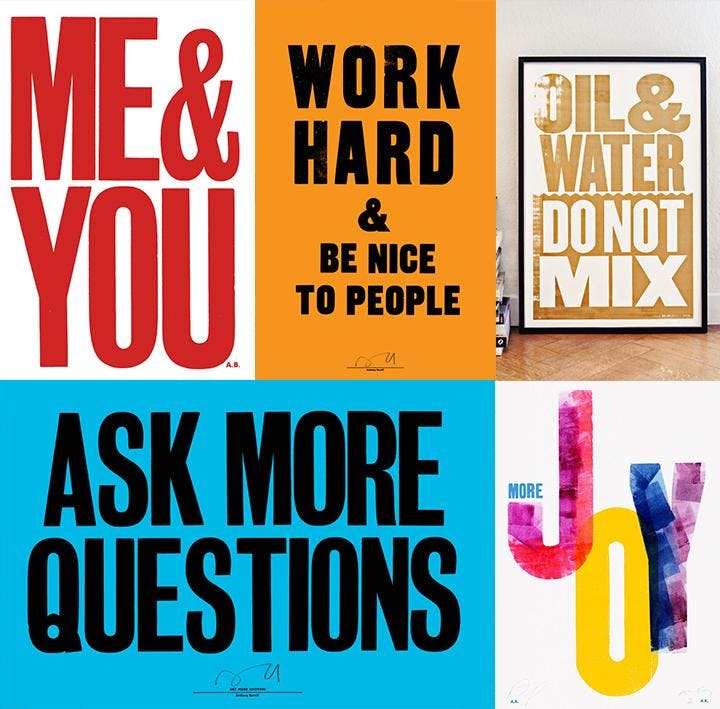 Kelly Anna
https://www.kellyannalondon.com
Instagram: @kellyannalondon
Kelly Anna is a freelance Artist and Print designer who is fast making waves in the art world with her bold & confident figurative works. Her work stands out thanks to its empowering messages — implicit in style, and explicit in the recognisably witty scrawlings.
Her work has been championed by the likes of It's Nice that, Risposte Magazine, Refinery29, Konbini and KK Outlet, and her prints have been worn by some incredible names including Beyonce, Cara Delevingne, Foals & London Grammar.
She has worked for a variety of renowned clients and collaborating with some great brands including, Nike, Warner Music, Air BnB, H&M and Moleskin.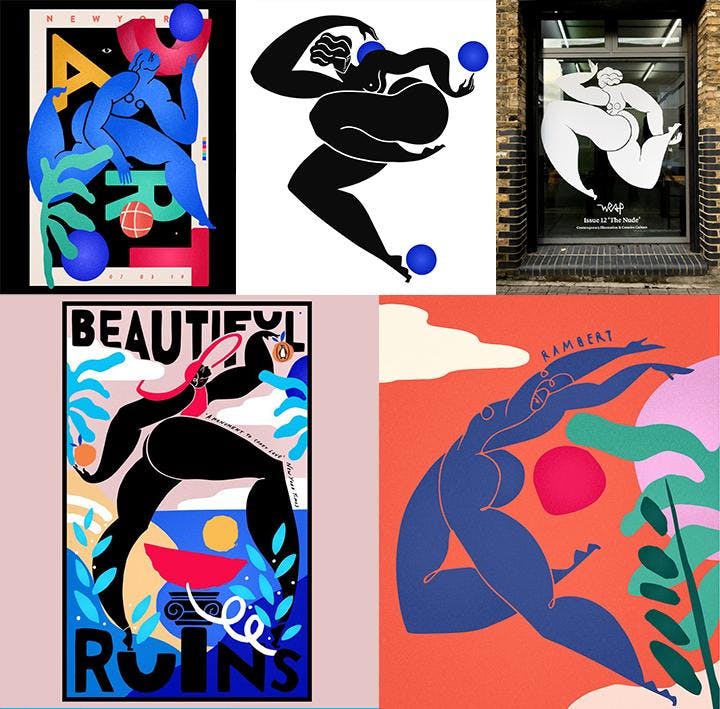 Jim Stoten
Instagram: @jimtheillustrator
Jim Stoten is an artist, illustrator, animator, Stylophone player and all round psychedelic genius who lives and works in Hastings in East Sussex.
He creates elaborate, dreamlike worlds full of narrative detail, comedy characters and animals. And as well as writing and illustrating a number of books for publishers such as NoBrow, he has created music videos, artwork for MTV, Urban Outfitters, British Airways , Habitat, Levi's and The Guardian.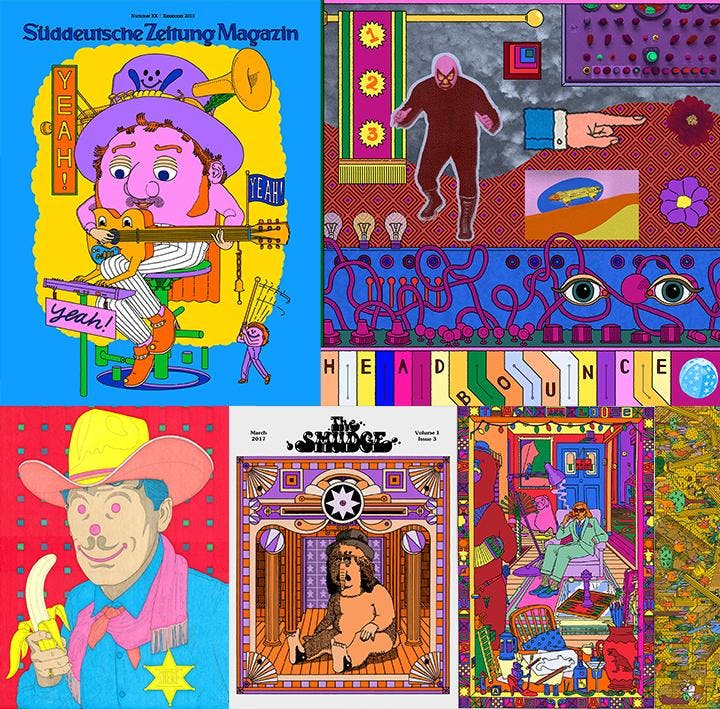 Final speaker to be confimed very soon
__________________________
Live Art
We will be joined by cream of the crop artists producing live art on the evening
Josephine Hicks
Instagram: @hixxy
Josephine's work is a playful exploration in the way we think about space, colour, textures and everyday objects. From large scale murals, to illustration for print, her work is inspired by all things botanical, tuttu fruitti, 50's print design and archive illustration. Josephine studied Fine Art BA Hons in Liverpool & after graduating created lots of screen print which paved the way to her aesthetic of mural painting.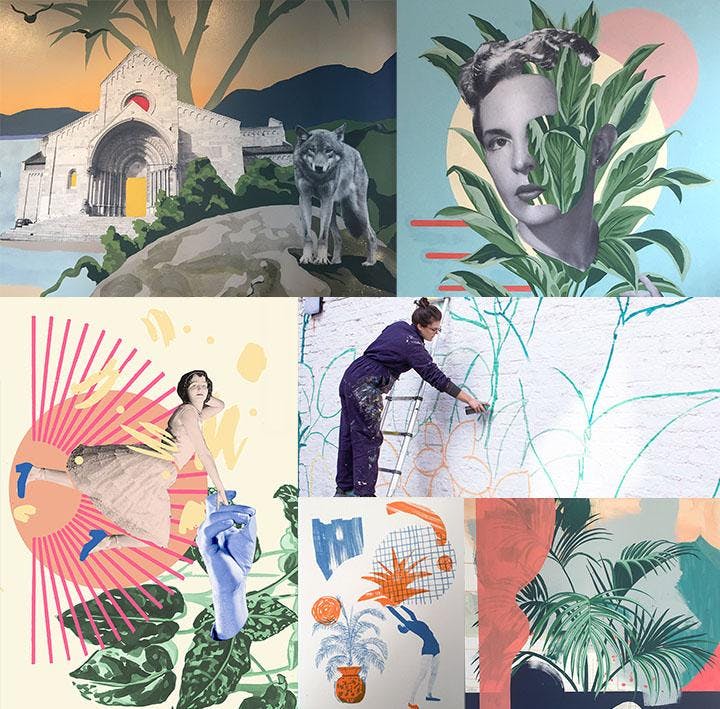 More live artists to be confirmed very soon
__________________________
Fun Times
The World's Largest Database of Protest Posters
With over 200 submissions and counting, Glug is on a mission to create one of the largest open-access databases of climate protest posters. Glug invites Brighton creatives to ignite their inner activist, put pen to placard and make their own protest posters. We will also be exhibiting some of the incredible submissions from the protest by Design database
https://glugevents.com/news/2019/protestbydesign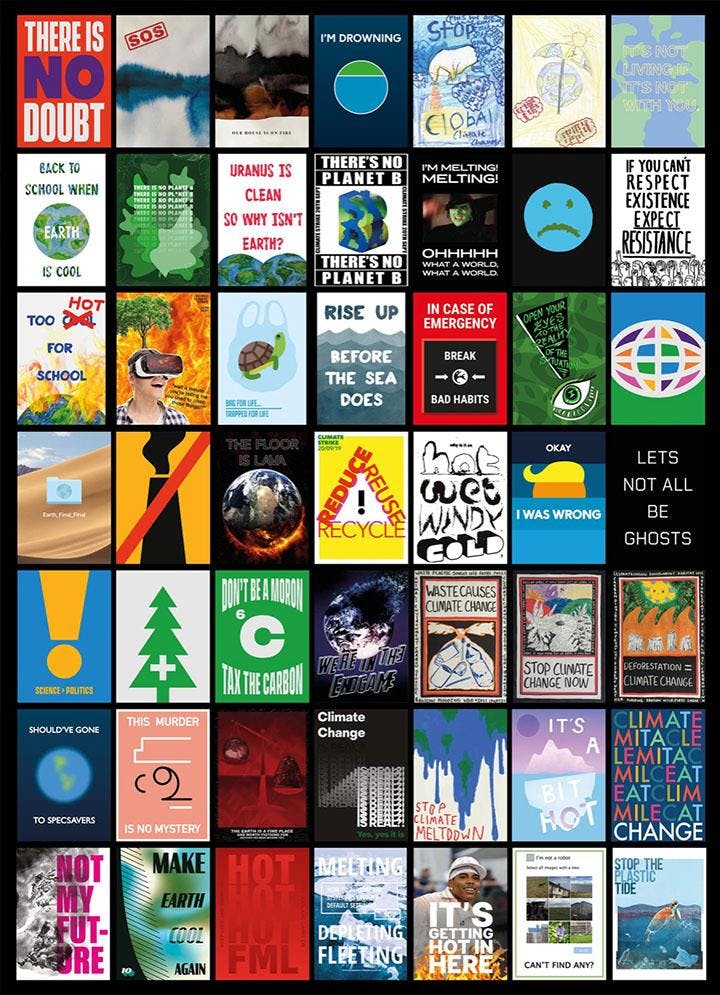 Photobot
Glug wouldn't be Glug without our good friends from Photobot. Adam will be joining us with his latest creation so get your game face on, and cat face and vogue face and tiger face etc etc.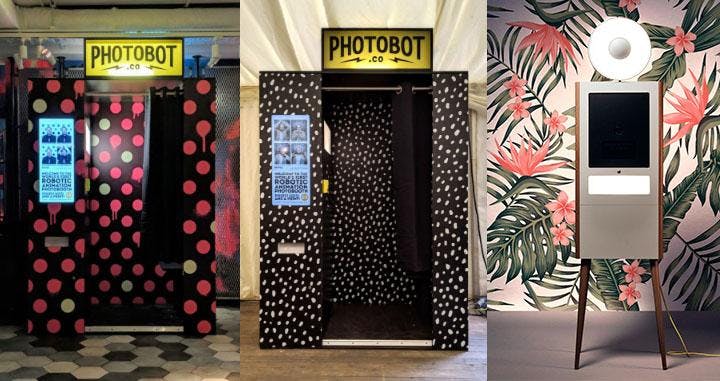 The Private Press
As part of this event Brighton screenprinting studio The Private Press will be live printing 100 exclusive Anthony Burrill mini prints.
https://www.theprivatepress.org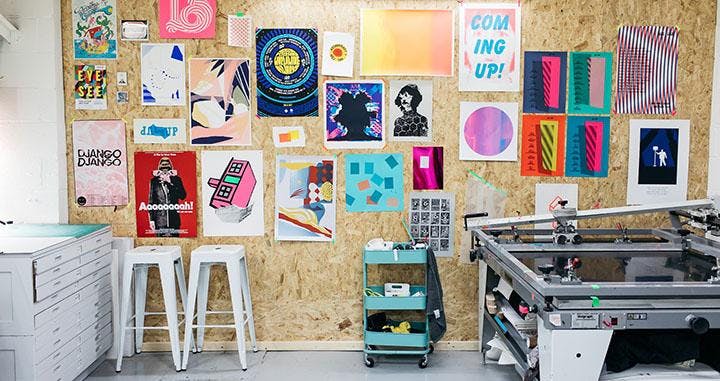 Glug Brighton is brought to you by
Crush Creative http://www.crushed.co.uk
Agency Rush http://www.agencyrush.com
in association with Look at This